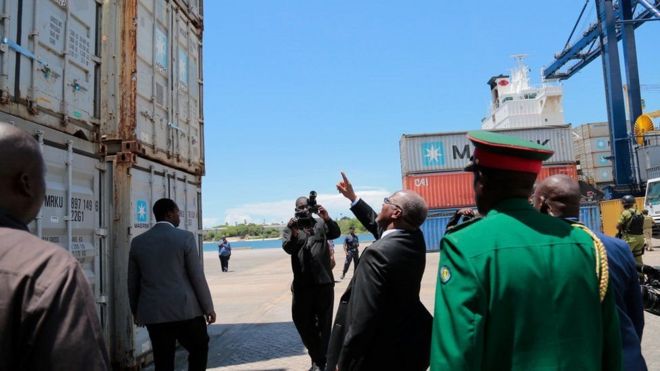 Acacia Mining has posted an update on their website regarding the ongoing dispute between Government of Tanzania and the Canadian gold giants Barrick Gold Corporation, which owns a majority of the shares of Acacia.
The post reads:
Acacia notes the press release issued by the Office of the President of Tanzania earlier today following a meeting between President of Tanzania H.E. Dr. John P. Magufuli and John Thornton, the Executive Chairman of Barrick Gold Corporation ("Barrick"), Acacia's majority shareholder. The release states that Barrick and the Government of Tanzania have agreed to enter into discussions in order to reach a mutually acceptable solution to the issues relating to the ban on the export of gold/copper concentrates as well as the future framework for Acacia's operations in Tanzania.

We will provide a further update as appropriate and our already scheduled conference call on Thursday 15 June at 09:00 UK time will still take place, with dial-in details below:

Participant dial in: +44 20 3059 8125

Password: Acacia Mining

You can find the news realese from Tanzania's State House at the end of this article.
Canada's Barrick Gold Corporation owns 64% interest in Acacia Mining, the largest gold producer in the East African country. However they do operate as a separate company.
The findings of the Presidential Second Committee's report looking into the export of metallic mineral concentrates were presented to the President of Tanzania H.E. Dr. John P. Magufuli Monday.
The report  has made a series of recommendations including the payment of outstanding taxes and royalties, re-negotiation of large-scale Mineral Development Agreements, government ownership in the mines, and the continuation of the export ban.
Soon after taking the office n August last year, newly elected Tanzania President Magufuli announced directive banning exportation of metallic mineral concentrates after it came to light that Tanzania is losing millions from the exports of country's natural resources.
The report alleges Tanzania lost over 80 million dollars since 1989.
Acacia Mining has been operating three mines in Tanzania for over 15 year and have strongly denied any wrong doing through their website.
Below is an excerpt from Acacia news release refuting the finding, which was was presented to the Tanzanian President Magufuli.
Acacia strongly refutes these new unfounded accusations. We have always conducted our business to the highest standards and operated in full compliance with Tanzanian law. We re-iterate that we have declared everything of commercial value that we have produced since we started operating in Tanzania and have paid all appropriate royalties and taxes on all of the payable minerals that we produce. In addition, our published accounts are annually audited to an international standard in accordance with IFRS.